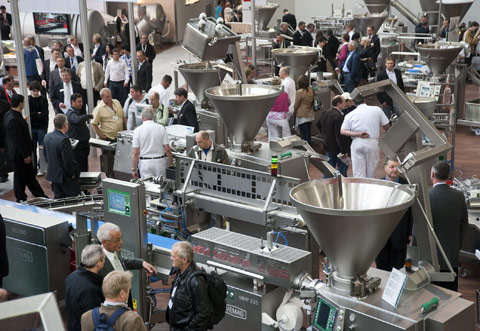 It is very important for us to understand the direction in which the meat-processing industry develops. OOO NPP "Tehinserv" always strives to keep pace with the times, taking experience from the world's leading manufacturers. And in May of 2016, an event will take place, which we waited for 3 years. World forum for meat processing enterprises. From manufacturers of food equipment, spices and ingredients, to processors, dealers and many many other meat market participants.

International Specialized Exhibition
Equipment, technologies and ingredients
For the meat industry.

Frankfurt am Main, Germany
7 - 12 May 2016

The IFFA, which is held once every 3 years in the Frankfurt exhibition complex, is the world's premier event for specialists in the field of equipment and technologies for the meat industry. Subjects of the exhibition cover the whole range of practical issues and will be of interest both to representatives of large companies and to specialists in small production and workshops.
At the last exhibition, 966 exhibitors presented their achievements, of which 556 were representatives of 47 foreign countries. The exhibition was visited by 60 thousand visitors. On the total area of 104 thousand square meters. Such directions will be presented:
equipment for slaughter; Machines for cutting carcases and processing meat; Cooling and freezing;

equipment for cooking sausages and processing meat; Canning and pickling;

systems for smoking, frying and boiling meat;

Packaging materials and technologies;

Intra-plant transport and storage; Transportation of meat products;

hygiene in meat production; equipment service; Waste management; occupational Safety and Health;

office equipment and programs; Laboratory and control equipment; Libra;

auxiliary equipment (compressors, electrical equipment, ventilation, heating, etc.);

services: design; Training of personnel; advertising; Waste management and cleaning;

knives and apparatus for slicing;

seasonings, spices, substances for salting;

natural and artificial shells;

IFFA-Delicat: finished products and delicacies; The organization of restaurants and shops.