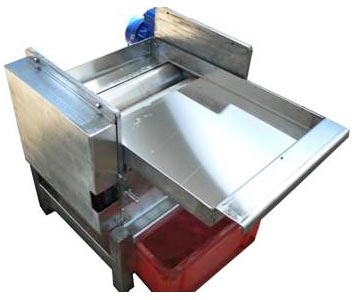 Press roller is used in the production of fish and meat snacks.
The press consists of a frame, two shafts, a drive and a working panel. The product passes between the shafts, which rotate towards each other. The clearance between the shafts is adjustable from 1 mm to 15 mm. When the product passes between the shafts, moisture is partially removed from it, and pieces of the same thickness are formed. The pressed product accumulates in the box, which is placed under the press.
The capacity of the press is up to 100 kg per hour.
Electric power (380 V) - 0,25 kW
The dimensions are 600x600x900 mm.
Weight - 50 kg.